Our response to SF being graded by its Mayor on their homelessness services plans & status, while looking at Savannah & a call for our grading consideration by the whole community!
Housing First for Savannah's Chronic Homeless
See on Scoop.it – Homelessness, Housing First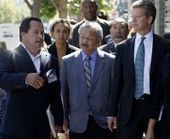 San Francisco Chronicle
SF gets a C for progress on homelessness
San Francisco Chronicle
Credit San Francisco Mayor Ed Lee for his candor. Last week, Lee admitted that he'd only give his administration a C on the issue of homelessness.
Marvin Heery's insight:
Interesting that the Mayor of SF grades the City herself! That's great because it's the first step to progress.
The challenge is that City governments often rely on service providers to make it happen. This Mayor not only recognizes the issues she also knows about the need to address specific populations & which need focus to move forward.
Just like when an addict admits he has a problem is the first step to recovery.
So, as always, what does Savannah's Mayor believe our grade is? But more importantly, how is she facilitating (thru the City Manager's Office) the resolution…
View original post 345 more words